So many channels!
Of course different people prefer different communication channels. We live in an age of limitless technology. The brilliant part of this for contact centers? The perfect channel is probably out there for everyone.
Studies show that millennials prefer digital conversation while baby boomers would rather make a phone call. Is this a problem? Of course not! It's perfectly possible to meet the demands of both groups all at once. You see, Smartcall offers a one-size-fits-all solution because we enable contact centers to efficiently manage multi-platform communication.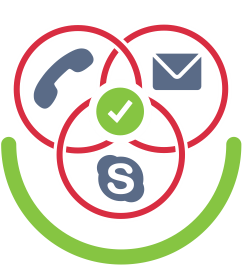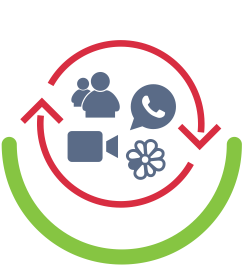 Fast evolution of media
One day Facetime is all the rage, the other it's WhatsApp. Who even remembers ICQ or Windows Live Messenger? Communication centers need a flexible platform so they can integrate any communication channel, even those that are aimed at a niche audience. This limitless flexibility is precisely what Smartcall brings to the table.
Which channels are supported by Smartcall today?
Smartcall as a platform allows any kind of communication channel to be translated into the contact center's software. The contact center itself is free to determine which channels they will offer to the user base. These are some of the possibilities: